Wild Expressive Greeting Cards
Dear fans of my artwork,
Thank you for supporting me at local farmer's markets.
Now I am direct selling greeting cards right here! They are 4 x 6 cards printed by Moo on sustainable sourced, heavyweight 16 pt stock in light satin finish with the inside uncoated for easier writing. You will love the firm texture and vibrant colors. Nothing worse than wimpy, paper thin greeting cards that bend in a slight breeze.
In the shopping card, you can pick the name and the number of those cards you would like to purchase.
Minimum card purchase is two for $11.00
For under 10 cards, I send them priority mail, which is $7.15. As a client thank you, there will be no handling charges through March 1, 2018.
Peace On Earth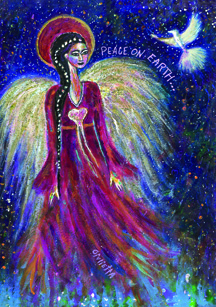 If anything seems to go askew, please email me through the contact form or call me at 508 380 8799 and I will take care of it.
Prints are forthcoming!
Appreciate your visit very much.
Giulietta