Painting Angels: A Heavenly Experience
Saturday, November 4, 1:30 to 3:30 pm
Holliston, at A Soul Spirit Studio
For every moment you lose a little hope there is always an angel whispering,"I am with you."~ Unknown.

Many people are fascinated with angels because they like to believe someone — their guardian — is looking out for them. They give us hope when we need it, support when we have lost our way and healing when our wounds need repair.
In addition, angels are just plain cool with their flowing outfits and powerful wings. Who wouldn't like to be able to fly?
Angels are also a blast to paint! Once I started creating angels, I literally couldn't stop. They are naturally uplifting beings that can be placed in a variety of settings and, if you wish, adorned with heartfelt sayings. If you are a frustrated clothing designer like me, you'll really enjoy designed outfits for them to wear …
Best of all your paintings placed in a frame will make terrific homemade and heartfelt gifts for the holidays.
Want to have some fun? Please join us for a relaxing and spiritual afternoon painting and musing about angels, including memorable angels from movies and books. All painting levels welcome.
I will bring all the quality supplies, including paintbrushes, paint, glitter, markers and canvas paper of varying sizes.
Some of you will dive right in and paint the afternoon away. Others will ask for more "divine" guidance on wings, robes, and hair, which I am here to provide. You will leave with at least two unique paintings that reflect your own relationship with angels.
All you need to bring is your loving, inspired and open-minded self and wear clothes you don't mind speckling with paint. Light refreshments will be served during our mid-program break.
My latest angel painting below is called "Embracing The Light."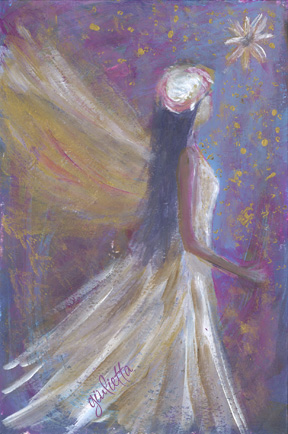 Place:  A Soul Spirit Studio,76 Railroad Street, Holliston. (Off Route 16)
Date:  Saturday, November 4, 1:30 to 3:30 pm
Cost:  For new Giulietta the Muse participants, $54. Return Participants, Senior Citizens 65 and up and angel loving friends who sign up together: $49.
Attitude: Inspiring, Hopeful and Uplifting
Info:  508.380.8799 or giulietta@giuliettathemuse.com
I've been running creative life shops since 2004. Would love for you to join us! Please read the words of praise below from artists of all levels who have taken some of my painting programs.
Words of Praise!
"Giulietta brings music and so many options.  She answered questions from beginners to those with vast experience.  Teaching is her forte.  It was a fun afternoon of painting with lively conversation and music.  I am inspired by the creativity of your exercises and found myself in a great mood to tackle my week
on Monday
!"
Leslie Githens, Project management trainer and consultant
"I took Giulietta's Wild Imagination Painting class last week and if there wasn't a time limit, I'd still be sitting there lost in the paint and glitter magic.  I'm continuing at home making a great creative mess.
Thank you Giulietta for holding the inspiring, space for me to be able to express and explore the worm hole of paint and myself. Keep up your good play, my muse."
Zenovía Limberakis,
Reconnection Healer and Intuitive Reader
zenovia.org
"I gave myself the wild imagination painting class as a gift and was very grateful I did it!  I am a painter but, I do not usually paint like this…it felt like it was right out of my soul. Half the fun was being with the other students and Julie. This is my kind of therapy, thank you!"
Dana Reinhard
Mosaic Artist and Painter
"I thoroughly enjoyed Giulietta's Wild Imagination Painting class! I was surprised to learn how easy it is to let go and set your imagination on "auto pilot"… I enjoyed using watercolors so much I immediately bought watercolor paper and paint and have begun creating some really beautiful business cards to use at a holiday craft fair coming up. It was a really fun afternoon and new way of expressing myself has been born!"
Carolanne Washburn, Clothing and Accessory Designer
New Hampshire
"I have taken quite a few highly structured painting and drawing classes over the past few years, and found Giulietta's Wild Imagination Painting class to be really fun and relaxing. She supplied all the materials, some of which I'd never used before, and let us just enjoy the act of painting with abandon."
Roberta Jackson
Singer, Painter and Illustrator
"I really enjoyed Giulietta the Muse's Wild Imagination Painting this weekend. It opened up my creativity and gave me permission to just let whatever I was thinking or feeling come on to the page. It was freeing and I loved the results."
Judy Giovangelo, Spiritual Counselor and Intuitive Healer
Massachusetts
http://www.judygio.com
"Giulietta, your Wild Painting Program was not only a fun way to spend the afternoon, but a great help to me in getting over my decades long fear of painting! There was no pressure to perform, it was just "paint whatever comes out of you. And surprisingly enough, some cool paintings came forth. Thanks for the fun!"
Jill Whalen, Adventurer, Singer, Former SEO marketing expert
Massachusetts
"What to do when a "monster snow storm" is all they talk about? I had the best two "pre-snowstorm" hours at Giulietta Nardone's "Wild Painting" program. Great way to experiment and see what a paintbrush and color could tell me about my "unfinished stories."
Linda Havel, Poet and Seeker
Massachusetts
"Well ~ you did it again Giulietta!  In the midst of a crazy Saturday, rushing from one chore to another, I kept reminding myself to make sure I made it to my 'Wild Painting' class on time!  I honestly had no idea what to expect and my head was so full of things I needed to cross off my list that I barely gave a thought to the class until I took off my coat, sat down and looked at all of the beautiful paints and glitter!  Two and a half hours later, my head was full of swirls and color and feathers and c.r.e.a.t.i.v.i.t.y!!!  Thank you for once again making my world stop and injecting into my experience a little bit of magic and a whole lot of self-discovery!!  You are truly life's muse!!!"
Eleanor Uddo
Creative Soul, Painter and Lawyer
http://www.elderlaw.com/
"In Giulietta's Wild Painting class I slapped paint down on paper without thinking too much. I just did the first thing that came to mind and worked very fast without judgment. I think this exercise released some fears that held me back and has sparked more spontaneity in my work. The next day I woke up elated and that mood lasted all day."
Janis Luedke
Interior Designer and Painter
http://jalarts.com
"I really enjoyed Giulietta's Wild Painting workshop! She started us off with an inspiring writing prompt to get us going in our visioning process. Giulietta brought a variety of colorful materials to try. Each artist was able to work in their own way, whether experienced or not, with Giulietta's encouragement to loosen up and let it out!  It was cool to see everyone's artwork displayed together at the end, because each piece reflected a unique style."
Andrea Green, Art Teacher and Artist
http://www.startinglinestudio.com/
"I haven't had this much fun with paint in years! Wild Painting gave me permission to simply show up, play freely and get bold with color. Thank you Giulietta, for the frequent refills of clean water in my paintbrush cup! I appreciate the wonderful take-away printout of useful tips, warm-up exercises & resources too. Thank you also to Cheryl Cohen, for providing the inspiring art studio space!"
Mary Starr Green, Yoga Teacher
http://www.marystarrgreen.com/
More on the painting adventure and me!:
My creativity classes are lots of fun and filled with encouragement, insights and transformation.
Participants leave feeling more free and loose.
I've been painting since 2000, first with oil and now with watercolor or acrylic.
Really hit my stride with watercolor because the medium "begs" me to not "control it." Now I love acrylic because I can add layer after layer until the painting is ready to reveal itself. No such thing as mistakes.
Another chance to join us…
Copyright © Giulietta "Julie" Nardone, Giulietta the Muse, A Division of Flaunt Your Difference, Inc., 2017 and beyond
All Rights Reserved
Giulietta The Muse, A Division of Flaunt Your Difference, Inc.