Painting Angels: A Heavenly Experience
Saturday, January 27, 2018, 1:30 to 3:30
Holliston: A Soul Spirit Studio
Adults & Children 16+ Accompanied By A Parent
For every moment you lose a little hope there is always an angel whispering,"I am with you."~ Unknown.

Many people are fascinated with angels because they like to believe someone — their guardian — is looking out for them. They give us hope when we need it, support when we have lost our way and healing when our wounds need repair.
In addition, angels are just plain cool with their flowing outfits and powerful wings. Who wouldn't like to be able to fly?
Angels are also a blast to paint! Once I started creating angels, I literally couldn't stop. They are naturally uplifting beings that can be placed in a variety of settings and, if you wish, adorned with heartfelt sayings. If you are a frustrated clothing designer like me, you'll really enjoy creating outfits for your angel to wear …
Best of all your paintings placed in a frame will make terrific homemade and heartfelt gifts for the holidays.
My angel painting below is called "Embracing The Light."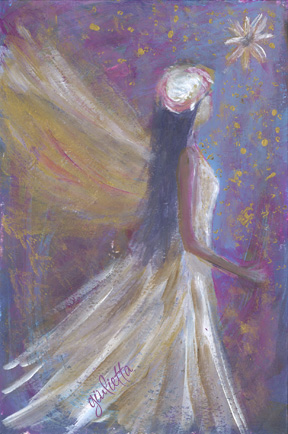 Info About The Program
Place:  A Soul Spirit Studio,76 Railroad Street, Holliston. (Off Route 16)
Date:  Saturday, January 27, 2018, 1:30 to 3:30
Cost:  For new Giulietta the Muse participants, $54. Return Participants, Senior Citizens 65 and up and angel loving friends who sign up together: $49. Seating is limited to keep the experience cozy.
Attitude: Inspiring, Hopeful and Uplifting
Info:  508.380.8799 or giulietta@giuliettathemuse.com